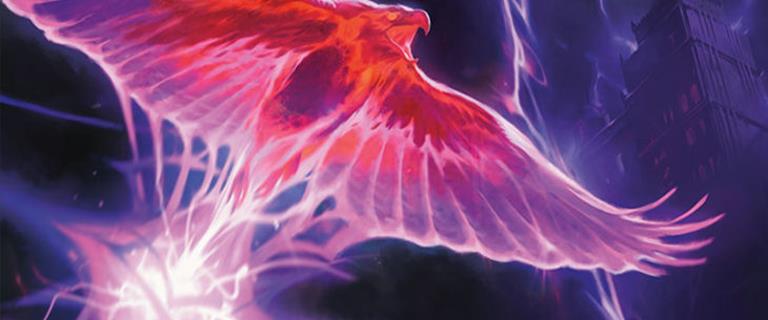 di Giovanni Montefiori - 01/08/2019
GP BARCELLONA 2019
Ma quanto è bello giocare a Magic??? 1600 persone che giocano lo stesso evento, più di 4000 giocatori in un bellissimo weekend tutto all'insegna del Modern e Magic Time Team quasi al completo con ben 10 player al via di questo GP.
COSA GIOCARE?
La parte più difficile avvicinandosi a un torneo di un formato vasto come il Modern è sempre la scelta del mazzo, ci sono sempre almeno una decina di archetipi da prendere in considerazione da cui poi scegliere quello "giusto". Dopo qualche settimana di test e dopo aver abbandonato ufficialmente Grixis Shadow, la mia scelta è caduta su UR Phoenix, il mazzo più adatto a me tra i Tier del formato. Ecco, consiglio per tutti, a un evento come questo giocate sempre quello che ritenete il mazzo più forte e che sapete giocare meglio, i mazzi simpatici lasciamoli per i tornei sotto casa =).
Queste sono le 75 carte scelte:
4 Arclight Phoenix
1 Aria of Flame
4 Faithless Looting
1 Fiery Islet
1 Finale of Promise
1 Flame Slash
1 Flooded Strand
3 Island
1 Lava Dart
4 Lightning Bolt
1 Magmatic Sinkhole
4 Manamorphose
1 Misty Rainforest
2 Mountain
2 Pyromancer Ascension
4 Scalding Tarn
4 Serum Visions
4 Sleight of Hand
4 Spirebluff Canal
2 Steam Vents
3 Surgical Extraction
4 Thing in the Ice - Awoken Horror
4 Thought Scour
SIDEBOARD
1 Abrade
1 Aria of Flame
1 Anger of the Gods
1 Blood Moon
1 Force of Negation
1 Fry
1 Narset, Parter of Veils
4 Leyline of the Void
2 Saheeli, Sublime Artificer
2 Spell Pierce
La lista è abbastanza standard, 4 leyline di side ora sono obbligatori vista la presenza enorme di Hogaak deck, l'unica scelta un po' particolare sono le due Pyromancer Ascension al posto delle sue solite Aria of Flame (di cui una spostata in side) per cui ringrazio come sempre il buon Mengu per la dritta, la faccia del tuo avversario quando risolvi Finale of Promise forkato non ha prezzo.
IL MIO TORNEO
Turno 1 – Bye
Turno 2 – Bye
Turno 3 – UR Phoenix LOSS
Turno 4 – Jund LOSS (perchè e sempre bello giocare i tornei in modalità meatgrinder)
Turno 5 – Hardened Scales WIN
Turno 6 – UW Control WIN
Turno 7 – Scapeshift WIN
Turno 8 – UR Phoenix WIN
Turno 9 – Humans WIN
Chiudo il primo giorno 7-2, ottimo visto la partenza, a questo punto sapevo di dover fare almeno 4-2 il giorno successivo per andare a soldi
Turno 10 – Grixis Urza LOSS
Turno 11 – BW Eldrazi WIN
Turno 12 – UW Control WIN
Turno 13 – Hogaak WIN
Turno 14 – Humans WIN
Turno 15 – Hogaak LOSS
Finisco il torneo 11-4 in 72°posizione che significa 250$. Peccato per avere perso l'ultima partita in un game molto tirato che mi è costato la top 32, ma va benissimo così. Il mazzo si è rivelato davvero forte anche se più complicato di quanto si possa pensare a prima vista, non si vince solo facendo due fenici al turno 2, ma anche game molto lunghi e combattuti, Aria e Ascendancy vi faranno vincere game davvero incredibili.
Ora si continua con la stagione di MCQ Modern e poi GP GHENT con il Super Team Castellani (a breve arriverà un racconto sulla sua top 16 a Barcellona), Casamenti, Montefiori.
Un saluto al super gruppo Magictime per questo GP, ormai siamo uno delle principali realtà italiane in questi eventi e speriamo che questi buoni risultati ci facciano crescere ancora.
Alla prossima players

Monte
Iniziamo a raccontare questo super weekend al Gp Barcellona per il Magic Time Team.
Lascia un commento:
| | |
| --- | --- |
| Nome: | |
| Messaggio: | |
| Verifica: | 45-5 = |
| | |